Indian army paratroopers reportedly save the day in this reimagining of the 2017 Myanmar military crackdown against the Rohingya in Rakhine state. (Haider Khan / Twitter)
A motley crew of four burly soldiers and a bearded veteran donning a cowboy hat stride across a war-torn landscape, bearing guns in their hands and steely grit in their eyes.
The film still could pass for a new The Expendables poster, but, in big, bold letters accentuated by a barb-wired O, comes to us: ROHINGYA.
Followed by the tagline, "People from Nowhere," it seems that the first feature film on the brutal Myanmar military campaign against the Muslim minority in 2017 will lionise, uh, Indian army paratroopers.
Several news outlets, including The New Indian Express, Outlook India, and the Dhaka Tribune, reported that first-time director Haider Khan will bring to the big screen a story entwined in the context of some 740,000 Rohingya fleeing over the border to Bangladesh because of atrocities that have seen Myanmar accused of "genocide" at the UN's top court.
Bodybuilder and former Mr Bhutan, Sangay Tsheltrim, and Bangladeshi supermodel Tangia Zaman Methila will take the lead roles in the movie, which was reportedly filmed in Bhutan, northeast India, and the northern Indian state of Uttarakhand.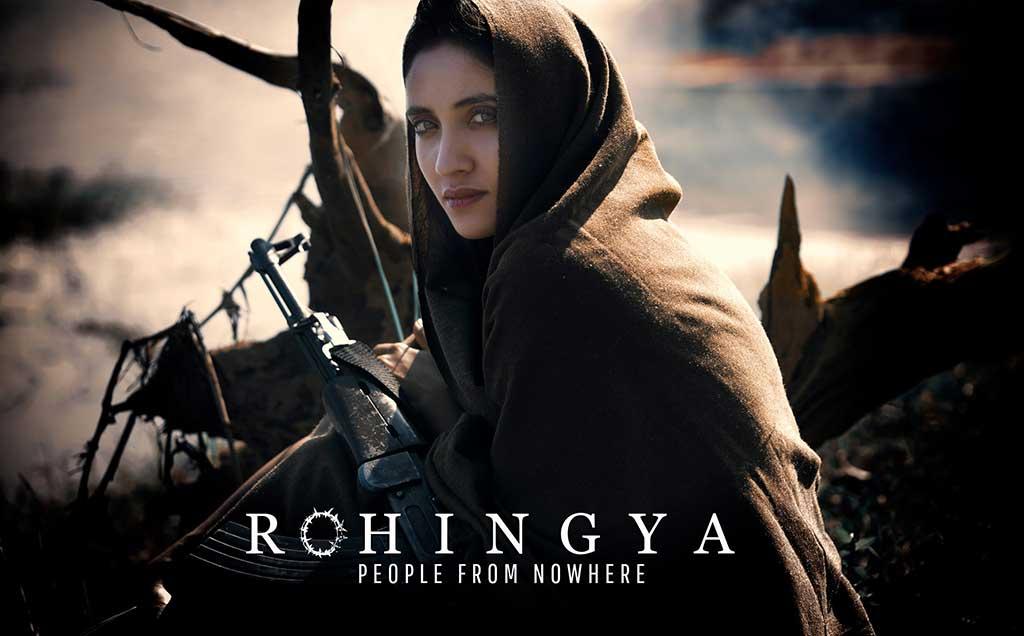 Bangladeshi actor Tangia Zaman Methila portrays a Rohingya woman in the film. In this still, her character is seen holding a gun.
Khan, the son of an ex-Indian army paratrooper, was quoted in The New Indian Express as saying the production will "throw light" on the plight of the Rohingya as well as "tell the story about the unsung Para (Special Forces)."
"The film is shot in complete natural light and we actually didn't have hair and makeup. I wanted to bring realism and the feel of the pain (experienced by) them," he said.
Readers are welcome to inform Myanmar Mix of said paratroopers role in rescuing the defenceless Rohingya before the film does.
Although the Myanmar military framed its campaign as a counter-terrorism operation, it is widely acknowledged the atrocities were driven by discrimination against the Rohingya, who are not recognised as citizens.
In that sense, we have a hunch who the bad guys are…and, based on Rambo IV, we're pretty sure they won't enjoy the flick, which seems destined to raise eyebrows worldwide.
source: https://myanmarmix.com/en/articles/rohingya-crisis-gets-indian-action-movie-treatment